Sumerian epic Gilgameš and Akka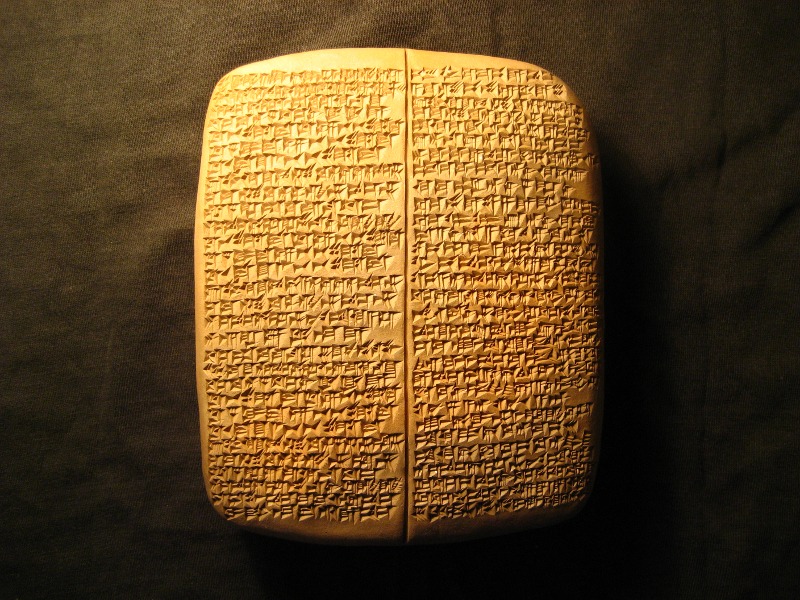 Sumerian poems about Gilgameš were predecessors and to some extent a direct source of the famous Akkadian Epic of Gilgameš. The epic poem Gilgameš and Akka is one of the two preserved and known poems that have no counterpart in the Standard Babylonian Epic. The poem tells a story about a military conflict between Akka, the ruler of Kiš, and Gilgameš, the ruler of Uruk (both Gilgameš and Akka probably ruled their city-states around 2600 BC; however, no direct and conclusive evidence of their historical existence has been found yet, just many hints and clues). The original clay tablets preserved date back to the Old Babylonian period (20th-16th century BC), none of them is fully preserved, the complete text is pieced together from several broken tablets. Thus this tablet is a unique one in the respect of the complete text of the epic written on the tablet. The text is written on the obverse and the reverse of the tablet. It is written by hand, in Sumerian, in Old Babylonian script, fired in a kiln with wood. It is a textual reconstruction, i. e. a copy of several fragments of the original tablets. The poem is complete, there is a name of the poem and a scribe's name (i. e. my name) written in the colophon at the end of the poem, as was the custom in Mesopotamia.
I will enclose a paper with transliteration, translation to English and some basic information about the text, the language, the script etc.
Size: 12,5 x 15 cm x 3,5 cm (width x height x thickness in the middle)